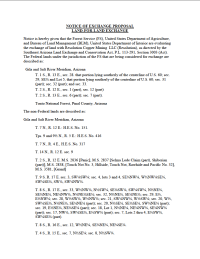 Legal Notice – Land Exchange Proposal – December 2017
Notice is hereby given that the Forest Service (FS), United States Department of Agriculture, and Bureau of Land Management (BLM), United States Department of Interior are evaluating the exchange of land with Resolution Copper Mining LLC (Resolution), as directed by the Southeast Arizona Land Exchange and Conservation Act, P.L. 113-291, Section 3003 (Act). The Federal lands under the jurisdiction of the FS that are being considered for exchange are described in the notice.
Snapshots Updated
The Forest Service is considering five reasonable action alternatives for a Tailings Storage Facility. To view Snapshot summaries and accompanying maps, click here.
EIS Status - Feb 2019
Public scoping period and scoping meetings
[5 meetings between Mar-Jun 2016; comment period extended from 60 days to 120 days, closed Jul 18, 2016 ]
Compile and review existing data
Prepare project description and identify project alternatives

We Are Here

Validate Baseline Information; analyze environmental effects

Prepare Draft EIS

Federal Register Notice of Availability of Draft EIS
45-day public review and comment period, with public meetings
Respond to public comments and prepare Final EIS
Federal Register Notice of Availability of Final EIS and Draft ROD
45-day Public Objection Period
Resolve objections to Final EIS and draft ROD
Issue Final Record of Decision