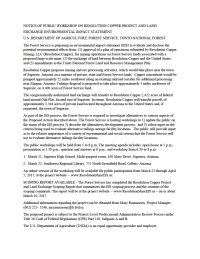 Legal Notice – Alternatives Workshop – March 2017
As part of the EIS process, the Forest Service is required to investigate alternatives to various aspects of the Proposed Action described above. The Forest Service hosted workshops to 1) update the public on the status of the EIS process 2) describe the alternatives development process, and 3) solicit input on the criteria being used to evaluate alternative tailings storage facility locations. The public provided input as to the relative importance of a variety of environmental and social criteria that the Forest Service used to evaluate alternative tailings facility locations.
Snapshots Updated
The Forest Service is considering five reasonable action alternatives for a Tailings Storage Facility. To view Snapshot summaries and accompanying maps, click here.
EIS Status - Feb 2019
Public scoping period and scoping meetings
[5 meetings between Mar-Jun 2016; comment period extended from 60 days to 120 days, closed Jul 18, 2016 ]
Compile and review existing data
Prepare project description and identify project alternatives

We Are Here

Validate Baseline Information; analyze environmental effects

Prepare Draft EIS

Federal Register Notice of Availability of Draft EIS
45-day public review and comment period, with public meetings
Respond to public comments and prepare Final EIS
Federal Register Notice of Availability of Final EIS and Draft ROD
45-day Public Objection Period
Resolve objections to Final EIS and draft ROD
Issue Final Record of Decision