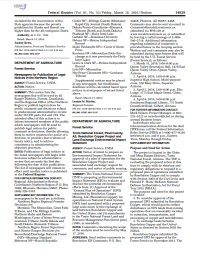 Notice of Intent - March 18, 2016
The Notice of Intent (NOI) to Prepare an Environmental Impact Statement, Request for Comments, and Notice of Public Scoping was published in the Federal Register on March 18, 2016. Publication of the NOI represents the official start of the process to prepare an EIS, as required under the National Environmental Policy Act, for approval of a plan of operations for the Resolution Copper Project and associated land exchange. Publication of the NOI also starts the 60-day public scoping period.
*This PDF document is not Section 508 accessibility compliant. If you require accessibility assistance, please contact us to Request Assistance.
Land Exchange Documents
Documents pertaining to the proposed land exchange between the federal government and Resolution Copper Mining, LLC, are available on this website.