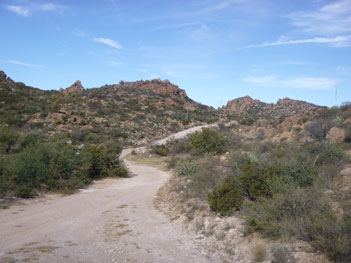 On behalf of the Secretary of Agriculture, the Tonto National Forest is preparing a single Environmental Impact Statement for two related federal actions:
Approving a general plan of operations submitted by Resolution Copper Mining, LLC, which would govern surface disturbance on National Forest System (NFS) lands from mining operations that are reasonably incident to extraction, transportation, and processing of copper and molybdenum.

The mine proposal would create one of the largest copper mines in the United States, with an estimated surface disturbance of 6,951 acres (approximately 11 square miles).
It also would be one of the deepest mines in the United States, with mine workings extending 7,000 feet beneath the surface.

Facilitating a land exchange of the Oak Flat Federal Parcel (2,422 acres of NFS land) for eight parcels located throughout Arizona (5,376 acres of private land currently owned by Resolution Copper) as directed by Section 3003 of the National Defense Authorization Act (NDAA) for fiscal year 2015.
Current Status: Both federal and non-federal appraisals of land exchange parcels currently are being conducted. Once completed, they will be reviewed by the regional appraiser. After appraisals are accepted, the information will be made available to the public for review. The final EIS and draft record of decision presently are scheduled to be published in the Federal Register sometime in winter 2020.
The Tonto National Forest's Schedule of Proposed Actions (SOPA) is an estimate for publication of the final EIS and draft ROD. It is based on several variables involving stakeholders and entities from the public and private sectors. These variables include current project progress and the amount of work remaining, reliance on external factors such as cooperating agencies to maintain regulatory compliance, and the land exchange appraisal process.
In spring 2020, the estimated publication of the documents was adjusted on the SOPA to December 2020. This was an update from the estimated December 2021 publication, which in turn was an adjustment from the original proposed publication of July 2020. Adjustments reflect the difference between the estimated timeline and the actual time it took to complete the necessary steps. The latest adjustment does not reflect an acceleration of the NEPA process or the SOPA.
As of December 1, 2020, the Tonto project team is finishing its review of and editing more than 1,500 pages that will comprise the final Environmental Impact Statement (FEIS).