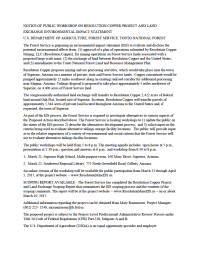 Legal Notice – Alternatives Workshop – March 2017
As part of the EIS process, the Forest Service is required to investigate alternatives to various aspects of the Proposed Action described above. The Forest Service hosted workshops to 1) update the public on the status of the EIS process 2) describe the alternatives development process, and 3) solicit input on the criteria being used to evaluate alternative tailings storage facility locations. The public provided input as to the relative importance of a variety of environmental and social criteria that the Forest Service used to evaluate alternative tailings facility locations.
Public Hearings
The Forest Service will host its remaining two public meetings in Queen Valley on October 8 and in Tempe on October 10.
Video & Materials
A video presentation – the same information introduced at each public meeting – as well as meeting materials (posters and newsletter) are available for public review.
Draft EIS Released
The Draft Environmental Impact Statement (DEIS) for the Resolution Copper Project and Land Exchange is now available for review under the 'EIS Info' tab.
Comment on DEIS
Optional ways to comment on the Draft EIS are located under the 'EIS Info' and the 'Public Involvement' tabs.