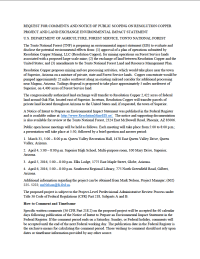 Legal Notice – Initial Scoping Schedule – March 2016
Public open house meetings will be held as follows. Each meeting will take place from 5:00 to 8:00 p.m.; a presentation will take place at 5:30, followed by a brief question and answer period:
March 31, 2016, 5:00 – 8:00 p.m. Queen Valley Recreation Hall, 1478 East Queen Valley Drive, Queen Valley, Arizona.
April 4, 2016, 5:00 – 8:00 p.m. Superior High School, Multi-purpose room, 100 Mary Drive, Superior, Arizona.
April 5, 2016, 5:00 – 8:00 p.m. Elks Lodge, 1775 East Maple Street, Globe, Arizona.
April 6, 2016, 5:00 – 8:00 p.m. Southwest Regional Library, 775 North Greenfield Road, Gilbert, Arizona.
Video & Materials
A video presentation – the same information introduced at each public meeting – as well as meeting materials (posters and newsletter) are available for public review.
Draft EIS Released
The Draft Environmental Impact Statement (DEIS) for the Resolution Copper Project and Land Exchange is now available for review under the 'EIS Info' tab.
Comment on DEIS
Optional ways to comment on the Draft EIS are located under the 'EIS Info' and the 'Public Involvement' tabs.