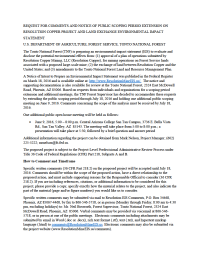 Legal Notice – Scoping Period Extension – May 2016
Based on requests from individuals and organizations for a scoping period extension and additional meetings, the TNF Forest Supervisor has decided to accommodate these requests by extending the public scoping period through July 18, 2016 and holding one additional public scoping meeting on June 9, 2016. Comments concerning the scope of the analysis must be received by July 18, 2016.
Video & Materials
A video presentation – the same information introduced at each public meeting – as well as meeting materials (posters and newsletter) are available for public review.
Draft EIS Released
The Draft Environmental Impact Statement (DEIS) for the Resolution Copper Project and Land Exchange is now available for review under the 'EIS Info' tab.
Comment on DEIS
Optional ways to comment on the Draft EIS are located under the 'EIS Info' and the 'Public Involvement' tabs.