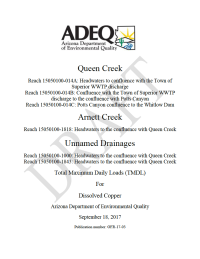 DRAFT - Queen Creek Dissolved Copper TMDL
The goal of the Queen Creek TMDL project was to develop the site characterization and water quality data set needed to calculate the TMDLs for dissolved copper in the listed reaches of Queen Creek, Arnett Creek, and the unnamed drainages.
Reference Information:
Arizona Department of Environmental Quality. 2017. DRAFT - Queen Creek Dissolved Copper TMDL. Publication number: OFR-03. Available at: [Link]. Accessed June 14, 2019.
*This PDF document is not Section 508 accessibility compliant. If you require accessibility assistance, please contact us to Request Assistance.
Draft EIS Released
The Draft Environmental Impact Statement (DEIS) for the Resolution Copper Project and Land Exchange is now available for review under the 'EIS Info' tab.
Comment on DEIS
Optional ways to comment on the Draft EIS are located under the 'EIS Info' and the 'Public Involvement' tabs.