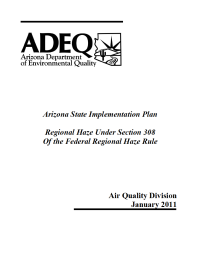 Arizona State Implementation Plan, Regional Haze Under 308 of the Federal Regional Haze Rule
Good visibility is important to the enjoyment of national parks and scenic areas. Across the country, regional haze has decreased the visual range from 140 miles to 35-90 miles in the West, and from 90 miles to 15 -25 miles in the East. Regional haze is air pollution that is transported long distances, causing reduced visibility in national parks and wilderness areas. This haze is composed of small particles that absorb and scatter light, affecting the clarity and color of what we see. The pollutants that create this haze are sulfates, nitrates, organic carbon, elemental carbon and soil dust. Human-caused (anthropogenic) sources include industry, motor vehicles, agricultural and forestry burning, and windblown dust from roads and farming practices.
Reference Information:
Arizona Department of Environmental Quality. 2011. Arizona State Implementation Plan (SIP). Regional Haze Under 308 of the Federal Regional Haze Rule. Air Quality Division. January 2011.
*This PDF document is not Section 508 accessibility compliant. If you require accessibility assistance, please contact us to Request Assistance.
Video & Materials
A video presentation – the same information introduced at each public meeting – as well as meeting materials (posters and newsletter) are available for public review.
Draft EIS Released
The Draft Environmental Impact Statement (DEIS) for the Resolution Copper Project and Land Exchange is now available for review under the 'EIS Info' tab.
Comment on DEIS
Optional ways to comment on the Draft EIS are located under the 'EIS Info' and the 'Public Involvement' tabs.