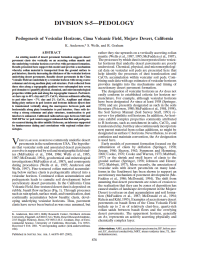 Pedogenesis of Vesicular Horizons, Cima Volcanic Field, Mojave Desert, California
An existing model of desert pavement formation suggests desert pavement clasts rise vertically on an accreting eolian mantle and the underlying vesicular horizon coevolves with pavement formation. Results presented here support this model and provide a mechanism whereby eolian material is transported from the ground surface to ped interiors, thereby increasing the thickness of the vesicular horizon help identify the processes of underlying desert pavements.
Reference Information:
Anderson, K., S. Wells, and R. Graham. 2002. Pedogenesis of vesicular horizons, Cima Volcanic Field, Mojave Desert, California. Soil Science Society of America Journal 66(3):878-887.
*This PDF document is not Section 508 accessibility compliant. If you require accessibility assistance, please contact us to Request Assistance.
Public Hearings
The Forest Service will host its remaining two public meetings in Queen Valley on October 8 and in Tempe on October 10.
Video & Materials
A video presentation – the same information introduced at each public meeting – as well as meeting materials (posters and newsletter) are available for public review.
Draft EIS Released
The Draft Environmental Impact Statement (DEIS) for the Resolution Copper Project and Land Exchange is now available for review under the 'EIS Info' tab.
Comment on DEIS
Optional ways to comment on the Draft EIS are located under the 'EIS Info' and the 'Public Involvement' tabs.