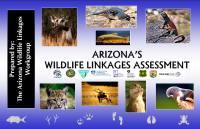 Arizona's Wildlife Linkages Assessment
Roads, urbanization, canals, railways, energy corridors and activities of illegal migrants and border security operations not only destroy habitat, but create barriers that isolate wildlife populations and disrupt ecological functions such as gene flow, predator-prey interactions, and migration. Addressing each of these potential barriers one-at-a-time is expensive and inefficient. In each landscape, we must address all these factors concurrently to successfully maintain or restore linkages between habitats and conserve the wildlife and natural ecosystems that Arizona's residents and visitors rely on and benefit from.
Reference Information:
Arizona Wildlife Linkages Workgroup. 2006. Arizona's Wildlife Linkages Assessment. Available at: [Link]. Accessed December 19, 2018.
*This PDF document is not Section 508 accessibility compliant. If you require accessibility assistance, please contact us to Request Assistance.
Draft EIS Released
The Draft Environmental Impact Statement (DEIS) for the Resolution Copper Project and Land Exchange is now available for review under the 'EIS Info' tab.
Comment on DEIS
Optional ways to comment on the Draft EIS are located under the 'EIS Info' and the 'Public Involvement' tabs.