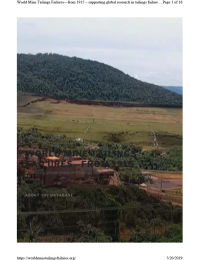 World Mine Failures as of March 2019 - Database
The purpose of the database is to provide a meaningful resource of factual authoritative data for analysis of trends, causes, and consequences, with a view to the changes that will result in effective loss prevention related to tailings management. The aim is to give voice to the narratives of every significant failure, not replace or overshadow the existing narratives.
Reference Information:
Bowker, L.N. 2019. World Mine Failures as of March 2019 - Database. Available at: [Link]. Accessed May 6, 2019.
*This PDF document is not Section 508 accessibility compliant. If you require accessibility assistance, please contact us to Request Assistance.
Draft EIS Released
The Draft Environmental Impact Statement (DEIS) for the Resolution Copper Project and Land Exchange is now available for review under the 'EIS Info' tab.
Comment on DEIS
Optional ways to comment on the Draft EIS are located under the 'EIS Info' and the 'Public Involvement' tabs.