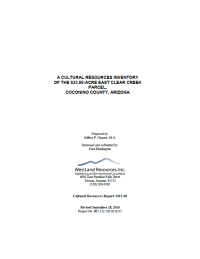 A Cultural Resources Inventory of the 633.88-Acre East Clear Creek Parcel, Coconino County, Arizona
COVER ONLY
Materials that meet the criteria of Freedom of Information Act exemptions are not posted on this website. Culturally sensitive materials not posted here fall under this criteria.
Reference Information:
Charest, J.P. 2016c. A Cultural Resources Inventory of the 633.88-Acre East Clear Creek Parcel, Coconino County, Arizona. Cultural Resources Report 2015-60. Project No. 807.113 520 03-0555. Tucson, Arizona: WestLand Resources Inc. September 28.
*This PDF document is not Section 508 accessibility compliant. If you require accessibility assistance, please contact us to Request Assistance.
Draft EIS Released
The Draft Environmental Impact Statement (DEIS) for the Resolution Copper Project and Land Exchange is now available for review under the 'EIS Info' tab.
Comment on DEIS
Optional ways to comment on the Draft EIS are located under the 'EIS Info' and the 'Public Involvement' tabs.