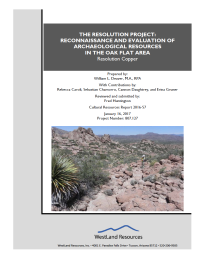 The Resolution Project: Reconnaissance and Evaluation of Archaeological Resources in the Oak Flat Area
COVER ONLY
Materials that meet the criteria of Freedom of Information Act exemptions are not posted on this website. Culturally sensitive materials not posted here fall under this criteria.
Reference Information:
Deaver, W.L. 2017. The Resolution Project: Reconnaissance and Evaluation of Archaeological Resources in the Oak Flat Area. Cultural Resources Report 2016-57. Project Number: 807.127. Tucson, Arizona: WestLand Resources, Inc. January 16.
*This PDF document is not Section 508 accessibility compliant. If you require accessibility assistance, please contact us to Request Assistance.
Public Hearing Comments Available
Comments from each of the six public hearings are available for viewing. Note that the public comment period is now closed.