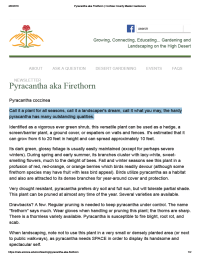 Call it a plant for all seasons, call it a landscaper's dream, call it what you may, the hardy pyracantha has many outstanding qualities.
Reference Information:
Dierking, P. 1998. Pyracantha aka Firethorn. Available at: [Link]. Accessed April 6, 2018.
*This PDF document is not Section 508 accessibility compliant. If you require accessibility assistance, please contact us to Request Assistance.
Public Hearing Comments Available
Comments from each of the six public hearings are available for viewing. Note that the public comment period is now closed.