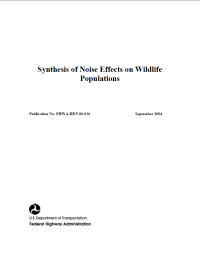 Synthesis of Noise Effects on Wildlife Populations
This report contains a summary of ongoing work on the effects of noise on wildlife populations to date. Because the numbers and/or diversity of species have been used as indicators of the effects of noise, a number of studies that have indicated one or both of these factors for species alongside roads are included, although noise is not specifically mentioned in some of these reports.
Reference Information:
Federal Highway Administration. 2004. Synthesis of Noise Effects on Wildlife Populations. Publication No. FHWA-HEP-06-016. Washington D.C.: U.S. Department of Transportation. September.
*This PDF document is not Section 508 accessibility compliant. If you require accessibility assistance, please contact us to Request Assistance.
Draft EIS Released
The Draft Environmental Impact Statement (DEIS) for the Resolution Copper Project and Land Exchange is now available for review under the 'EIS Info' tab.
Comment on DEIS
Optional ways to comment on the Draft EIS are located under the 'EIS Info' and the 'Public Involvement' tabs.