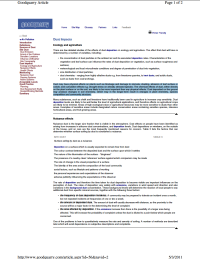 Dust Impacts: Ecology and Agriculture
Dust may have physical effects on plants such as blockage and damage to stomata, shading, abrasion of leaf surface or cuticle, and cumulative effects e.g. drought stress on already stressed species. The chemical effects of dust, either directly on the plant surface or on the soil, are likely to be more important than any physical effects. Dust deposited on the ground may produce changes in soil chemistry, which may in the longer-term result in changes in plant chemistry, species competition and community structure.
Reference Information:
Goodquarry. 2011. Dust impacts: Ecology and agriculture. Available at: [Link]. Accessed May 3, 2011. Webpage no longer available.
*This PDF document is not Section 508 accessibility compliant. If you require accessibility assistance, please contact us to Request Assistance.
Draft EIS Released
The Draft Environmental Impact Statement (DEIS) for the Resolution Copper Project and Land Exchange is now available for review under the 'EIS Info' tab.
Comment on DEIS
Optional ways to comment on the Draft EIS are located under the 'EIS Info' and the 'Public Involvement' tabs.