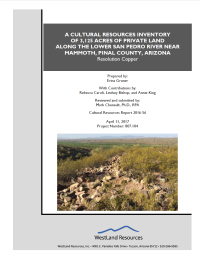 A Cultural Resources Inventory of 3,125 Acres of Private Land Along the Lower San Pedro River Near Mammoth, Pinal County, Arizona
COVER ONLY
Materials that meet the criteria of Freedom of Information Act exemptions are not posted on this website. Culturally sensitive materials not posted here fall under this criteria.
Reference Information:
Gruner, E. 2017. A Cultural Resources Inventory of 3,125 Acres of Private Land Along the Lower San Pedro River Near Mammoth, Pinal County, Arizona: Resolution Copper. Cultural Resources Report 2016-56. Project Number: 807.104. Tucson, Arizona: WestLand Resources Inc. April 11.
*This PDF document is not Section 508 accessibility compliant. If you require accessibility assistance, please contact us to Request Assistance.
Public Hearings
The Forest Service will host its remaining two public meetings in Queen Valley on October 8 and in Tempe on October 10.
Video & Materials
A video presentation – the same information introduced at each public meeting – as well as meeting materials (posters and newsletter) are available for public review.
Draft EIS Released
The Draft Environmental Impact Statement (DEIS) for the Resolution Copper Project and Land Exchange is now available for review under the 'EIS Info' tab.
Comment on DEIS
Optional ways to comment on the Draft EIS are located under the 'EIS Info' and the 'Public Involvement' tabs.