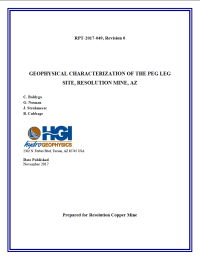 Geophysical Characterization of the Peg Leg Site, Resolution Mine, AZ
In September of 2017, HGI conducted a multi-method electrical resistivity, refraction seismic, and gravity geophysical survey at a proposed Tailings Storage Facility (TSF) called the Peg Leg TSF, near Kearny, Arizona. The survey was designed to help answer questions about the depths to bedrock and character of the basin fill in support of a geotechnical feasibility study for the proposed TSF.
Reference Information:
hydroGEOPHYSICS Inc. 2017. Geophysical Characterization of the Peg Leg Site, Resolution Mine, AZ. RPT-2017-049, Revision 0. Tucson, Arizona: hydroGEOPHYSICS Inc. November.
*This PDF document is not Section 508 accessibility compliant. If you require accessibility assistance, please contact us to Request Assistance.
Public Hearings
The Forest Service will host its remaining two public meetings in Queen Valley on October 8 and in Tempe on October 10.
Video & Materials
A video presentation – the same information introduced at each public meeting – as well as meeting materials (posters and newsletter) are available for public review.
Draft EIS Released
The Draft Environmental Impact Statement (DEIS) for the Resolution Copper Project and Land Exchange is now available for review under the 'EIS Info' tab.
Comment on DEIS
Optional ways to comment on the Draft EIS are located under the 'EIS Info' and the 'Public Involvement' tabs.