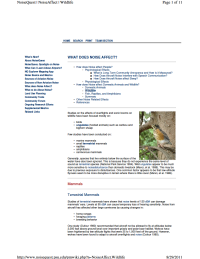 Studies on the effects of overflights and sonic booms on wildlife have been focused mostly on birds and ungulates. Few studies have been conducted on marine mammals, small terrestrial mammals, reptiles, amphibians, carnivorous mammals.
Reference Information:
NoiseQuest. 2011. What does noise affect? Available at: [Link] Accessed May 10, 2013. Webpage no longer available.
*This PDF document is not Section 508 accessibility compliant. If you require accessibility assistance, please contact us to Request Assistance.
Draft EIS Released
The Draft Environmental Impact Statement (DEIS) for the Resolution Copper Project and Land Exchange is now available for review under the 'EIS Info' tab.
Comment on DEIS
Optional ways to comment on the Draft EIS are located under the 'EIS Info' and the 'Public Involvement' tabs.