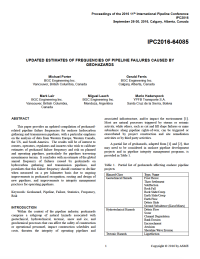 Updated Estimates of Frequencies of Pipeline Failures Caused by Geohazards
This paper provides an updated compilation of geohazard-related pipeline failure frequencies for onshore hydrocarbon gathering and transmission pipelines, with a particular emphasis on the analysis of data from Western Europe, Western Canada, the US, and South America.
Reference Information:
Porter, M., G. Ferris, M. Leir, M. Leach, and M. Haderspock. 2016. Updated estimates of frequencies of pipeline failures caused by geohazards. Paper presented at the 11th International Pipeline Conference, Calgary, Canada.
*This PDF document is not Section 508 accessibility compliant. If you require accessibility assistance, please contact us to Request Assistance.
Public Hearing Comments Available
Comments from each of the six public hearings are available for viewing. Note that the public comment period is now closed.