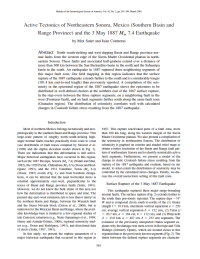 Active Tectonics of Northeastern Sonora, Mexico (Southern Basin and Range Province) and the 3 May 1887 Mw 7.4 Earthquake
North–south-striking and west-dipping Basin and Range province normal faults form the western edge of the Sierra Madre Occidental plateau in northeastern Sonora. These faults and associated half-grabens extend over a distance of more than 300 km between the San Bernardino basin in the north and the Sahuaripa basin in the south. An earthquake in 1887 ruptured three neighboring segments of this major fault zone. Our field mapping in this region indicates that the surface rupture of the 1887 earthquake extends farther to the south and is considerably longer (101.4 km end-to-end length) than previously reported.
Reference Information:
Suter, M., and J. Contreras. 2002. Active tectonics of northeastern Sonora, Mexico (southern Basin and Range Province) and the 3 May 1887 MW 7.4 earthquake. Bulletin of the Seismological Society of America 92(2):581-589.
*This PDF document is not Section 508 accessibility compliant. If you require accessibility assistance, please contact us to Request Assistance.
Public Hearings
The Forest Service will host its remaining two public meetings in Queen Valley on October 8 and in Tempe on October 10.
Video & Materials
A video presentation – the same information introduced at each public meeting – as well as meeting materials (posters and newsletter) are available for public review.
Draft EIS Released
The Draft Environmental Impact Statement (DEIS) for the Resolution Copper Project and Land Exchange is now available for review under the 'EIS Info' tab.
Comment on DEIS
Optional ways to comment on the Draft EIS are located under the 'EIS Info' and the 'Public Involvement' tabs.