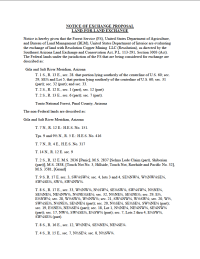 Legal Notice – Land Exchange Proposal – December 2017
Notice is hereby given that the Forest Service (FS), United States Department of Agriculture, and Bureau of Land Management (BLM), United States Department of Interior are evaluating the exchange of land with Resolution Copper Mining LLC (Resolution), as directed by the Southeast Arizona Land Exchange and Conservation Act, P.L. 113-291, Section 3003 (Act). The Federal lands under the jurisdiction of the FS that are being considered for exchange are described in the notice.
Video & Materials
A video presentation – the same information introduced at each public meeting – as well as meeting materials (posters and newsletter) are available for public review.
Draft EIS Released
The Draft Environmental Impact Statement (DEIS) for the Resolution Copper Project and Land Exchange is now available for review under the 'EIS Info' tab.
Comment on DEIS
Optional ways to comment on the Draft EIS are located under the 'EIS Info' and the 'Public Involvement' tabs.