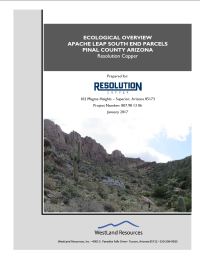 Ecological Overview Apache Leap South End Parcels
The Apache Leap South End parcels ("the Property") are three non-contiguous private inholdings within the Tonto National Forest (TNF). The Property is situated along the southern end of the Apache Leap, a prominent geologic feature that visually dominates the skyline east of the town of Superior, Arizona. The Property encompasses portions of the Apache Leap cliff face as well as rugged terrain of several ridges and drainages emanating from the cliff.
This ecological evaluation was conducted to:
Identify the type and relative condition of the onsite biological resources,
Evaluate ecological characteristics of the Property to identify remarkable resource attributes, and
Briefly assess the conservation values of these attributes in reference to local and regional contexts.
*This PDF document is not Section 508 accessibility compliant. If you require accessibility assistance, please contact us to Request Assistance.
Video & Materials
A video presentation – the same information introduced at each public meeting – as well as meeting materials (posters and newsletter) are available for public review.
Draft EIS Released
The Draft Environmental Impact Statement (DEIS) for the Resolution Copper Project and Land Exchange is now available for review under the 'EIS Info' tab.
Comment on DEIS
Optional ways to comment on the Draft EIS are located under the 'EIS Info' and the 'Public Involvement' tabs.