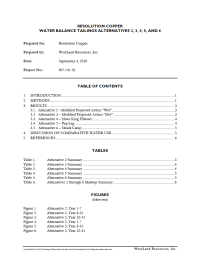 Resolution Copper Water Balance Tailings Alternatives 2, 3, 4, 5, and 6
The purpose of this memo is to present results of water balance analysis for each of the five tailings storage alternatives (Alternatives 2 through 6). Project water sources and use are described in detail in section 3.6 of the GPO (Resolution 2016). A large part of the consumptive water use of the Project is associated with the tailings storage facility (TSF) and can vary considerably depending on the tailings facility design, location, and storage methods.
Reference Information:
WestLand Resources. 2018b. Resolution Copper Water Balance Tailings Alternatives 2, 3, 4, 5, and 6. Project No.: 807.141 02. Prepared for Resolution Copper. Tucson, Arizona: WestLand Resources Inc. September 4.
*This PDF document is not Section 508 accessibility compliant. If you require accessibility assistance, please contact us to Request Assistance.
Video & Materials
A video presentation – the same information introduced at each public meeting – as well as meeting materials (posters and newsletter) are available for public review.
Draft EIS Released
The Draft Environmental Impact Statement (DEIS) for the Resolution Copper Project and Land Exchange is now available for review under the 'EIS Info' tab.
Comment on DEIS
Optional ways to comment on the Draft EIS are located under the 'EIS Info' and the 'Public Involvement' tabs.