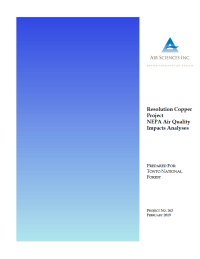 Resolution Copper Project NEPA Air Quality Impacts Analyses
This Modeling Report includes a description of the methods and datasets used in the air quality modeling analyses to estimate the Resolution Project's air quality impacts relative to the applicable Ambient Air Quality Standards (AAQS) for criteria pollutants and to Air Quality Related Values (AQRV) in the near-field domain (Class I Superstition Wilderness Areas [SWA], White Canyon Area of Critical Environmental Concern [WC ACEC], Class II Needle's Eye Wilderness Area [NEWA]) and in several Class I Wilderness Areas in the far-field domain (Sierra Ancha Wilderness Area [SAWA], Mazatzal Wilderness Area [MWA], Galiuro Wilderness Area [GWA], and Saguaro National Park [SNP). These analyses for the EIS are technically consistent with and in addition to the analyses prepared to demonstrate compliance with the applicable Pinal County Air Quality Control District (PCAQCD) and National Ambient Air Quality Standards (NAAQS), as required by the permit application requirements in applicable PCAQCD rules.
Reference Information:
Air Sciences Inc. 2019. Resolution Copper Project NEPA Air Quality Impacts Analyses. Prepared for Tonto National Forest. Project No. 262. Golden, Colorado: Air Sciences Inc. February.
*This PDF document is not Section 508 accessibility compliant. If you require accessibility assistance, please contact us to Request Assistance.
Public Hearings
The Forest Service will host its remaining two public meetings in Queen Valley on October 8 and in Tempe on October 10.
Video & Materials
A video presentation – the same information introduced at each public meeting – as well as meeting materials (posters and newsletter) are available for public review.
Draft EIS Released
The Draft Environmental Impact Statement (DEIS) for the Resolution Copper Project and Land Exchange is now available for review under the 'EIS Info' tab.
Comment on DEIS
Optional ways to comment on the Draft EIS are located under the 'EIS Info' and the 'Public Involvement' tabs.