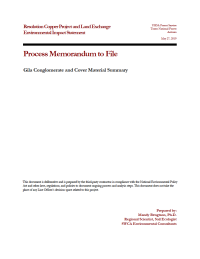 Gila Conglomerate and Cover Material Summary
A literature review was completed to summarize current information regarding the characteristics and potential performance of Gila Conglomerate as a capping material and plant growth medium. Gila Conglomerate has been applied widely as a cover and plant growth material in Arizona mining operations (KCB 2016), and many studies and projects have documented its performance. While the characteristics of Gila Conglomerate vary widely, some studies have characterized the nature, extent, and properties of Gila Conglomerate within or near the footprint and proposed borrow sites of the Near West tailings storage facility.
Reference Information:
Bengtson, M. 2019a. Gila Conglomerate and Cover Material Summary. Process memorandum to file. Reno, Nevada: SWCA Environmental Consultants. May 27.
Draft EIS Released
The Draft Environmental Impact Statement (DEIS) for the Resolution Copper Project and Land Exchange is now available for review under the 'EIS Info' tab.
Comment on DEIS
Optional ways to comment on the Draft EIS are located under the 'EIS Info' and the 'Public Involvement' tabs.