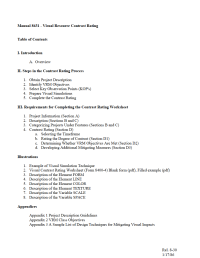 Visual Resource Contrast Rating
The contrast rating system is a systematic process used by the Bureau of Land Management (BLM) to analyze potential visual impact of proposed projects and activities. It is primarily intended to assist Bureau personnel who are not formally trained in the design arts to apply the basic principles of design in the resolution of visual impacts. It is not intended to be the only means of resolving these impacts. It should be used as a guide, tempered by common sense, to ensure that every attempt is made to minimize potential visual impacts.
Reference Information:
Bureau of Land Management. 1986a. Manual 8431 - Visual Resource Contrast Rating. Rel. 8-30. Washington D.C.: Bureau of Land Management. January 17.
*This PDF document is not Section 508 accessibility compliant. If you require accessibility assistance, please contact us to Request Assistance.
Video & Materials
A video presentation – the same information introduced at each public meeting – as well as meeting materials (posters and newsletter) are available for public review.
Draft EIS Released
The Draft Environmental Impact Statement (DEIS) for the Resolution Copper Project and Land Exchange is now available for review under the 'EIS Info' tab.
Comment on DEIS
Optional ways to comment on the Draft EIS are located under the 'EIS Info' and the 'Public Involvement' tabs.