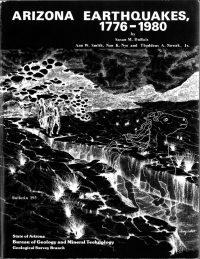 Arizona Earthquakes, 1776-1980
Reference Information:
DuBois, S.M., A.W. Smith, N.K. Nye, and T.A. Nowak Jr. 1982. Arizona Earthquakes, 1776–1980. Bulletin 193. Prepared by State of Arizona, Bureau of Geology and Mineral Technology, Geological Survey Branch.
*This PDF document is not Section 508 accessibility compliant. If you require accessibility assistance, please contact us to Request Assistance.
Public Hearing Comments Available
Comments from each of the six public hearings are available for viewing. Note that the public comment period is now closed.