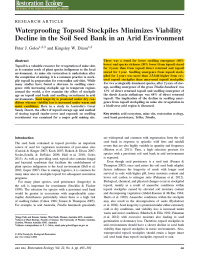 Waterproofing Topsoil Stockpiles Minimizes Viability Decline in the Soil Seed Bank in an Arid Environment
While many studies have found a decrease in seedling emergence with increasing stockpile age in temperate regions around the world, a few examine the effect of stockpile age on topsoil seed bank and seedling recruitment in arid environments.
Reference Information:
Golos, P.J., and K.W. Dixon. 2014. Waterproofing topsoil stockpiles minimizes viability decline in the soil seed bank in an arid environment. Restoration Ecology 22(4):495-501.
*This PDF document is not Section 508 accessibility compliant. If you require accessibility assistance, please contact us to Request Assistance.
Draft EIS Released
The Draft Environmental Impact Statement (DEIS) for the Resolution Copper Project and Land Exchange is now available for review under the 'EIS Info' tab.
Comment on DEIS
Optional ways to comment on the Draft EIS are located under the 'EIS Info' and the 'Public Involvement' tabs.