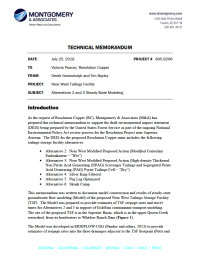 Alternatives 2 and 3 Steady-State Modeling - July 25
This memorandum was written to document model construction and results of steady-state groundwater flow modeling (Model) of the proposed Near West Tailings Storage Facility (TSF). The Model was prepared to provide estimates of TSF seepage rates and travel times for Alternatives 2 and 3 in support of GoldSim contaminant transport modeling. The site
Reference Information:
Groenendyk, D., and T. Bayley. 2018b. Alternatives 2 and 3 Steady-State Modeling - July 25. Project #: 605.8206. Technical memorandum. Tucson, Arizona: Montgomery and Associates Inc.
*This PDF document is not Section 508 accessibility compliant. If you require accessibility assistance, please contact us to Request Assistance.
Draft EIS Released
The Draft Environmental Impact Statement (DEIS) for the Resolution Copper Project and Land Exchange is now available for review under the 'EIS Info' tab.
Comment on DEIS
Optional ways to comment on the Draft EIS are located under the 'EIS Info' and the 'Public Involvement' tabs.