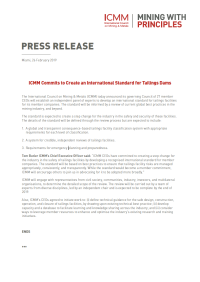 ICMM Commits to Create an International Standard for Tailings Dams
The International Council on Mining & Metals (ICMM) today announced its governing Council of 27 member CEOs will establish an independent panel of experts to develop an international standard for tailings facilities for its member companies. The standard will be informed by a review of current global best practices in the mining industry, and beyond.
Reference Information:
International Council on Mining and Metals. 2019b. ICMM commits to create an international standard for tailings dams. Press release. February 26. Available at: [Link]. Accessed June 15, 2019.
*This PDF document is not Section 508 accessibility compliant. If you require accessibility assistance, please contact us to Request Assistance.
Draft EIS Released
The Draft Environmental Impact Statement (DEIS) for the Resolution Copper Project and Land Exchange is now available for review under the 'EIS Info' tab.
Comment on DEIS
Optional ways to comment on the Draft EIS are located under the 'EIS Info' and the 'Public Involvement' tabs.