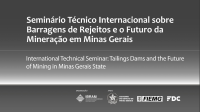 Tailings Dams and the Future of Mining in Minas Gerais State
Council is strongly supportive of the proposed actions in response to Brumadinho
Reference Information:
International Council on Mining and Metals. 2019a. ICMM's work on tailings. International Technical Seminar: Tailings Dams and the Future of Mining in Minas Gerais State. Coverage of the Brumadinho incident, presentation by ICMM CEO Tom Butler, dated April 17. Available at: [Link]. Accessed June 17, 2019.
*This PDF document is not Section 508 accessibility compliant. If you require accessibility assistance, please contact us to Request Assistance.
Public Hearing Comments Available
Comments from each of the six public hearings are available for viewing. Note that the public comment period is now closed.