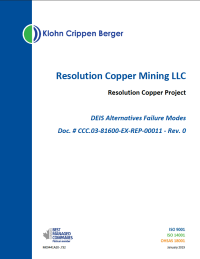 DEIS Alternatives Failure Modes
During a December 2018 meeting, it was agreed by the participants that a catastrophic failure of any of the alternatives would have unacceptable consequences due to the potential for impacts to life, environment and property. As such, all alternatives are considered high consequence structures and would be designed with appropriate criteria to manage the potential for a catastrophic failure.
Reference Information:
Klohn Crippen Berger Ltd. 2019a. Resolution Copper Project DEIS Alternatives Failure Modes. Doc. # CCC.03-81600-EX-REP-00011 - Rev.0. Vancouver, Canada: Klohn Crippen Berger Ltd. January.
*This PDF document is not Section 508 accessibility compliant. If you require accessibility assistance, please contact us to Request Assistance.
Public Hearing Comments Available
Comments from each of the six public hearings are available for viewing. Note that the public comment period is now closed.