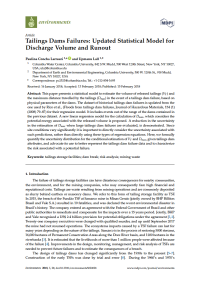 Tailings Dam Failures: Updated Statistical Model for Discharge Volume and Runout
This paper presents a statistical model to estimate the volume of released tailings (VF) and the maximum distance travelled by the tailings (Dmax) in the event of a tailings dam failure, based on physical parameters of the dams.
Reference Information:
Larrauri, P.C., and U. Lall. 2018. Tailings dam failures: Updated statistical model for discharge volume and runout. Environments 5(28).
*This PDF document is not Section 508 accessibility compliant. If you require accessibility assistance, please contact us to Request Assistance.
Public Hearing Comments Available
Comments from each of the six public hearings are available for viewing. Note that the public comment period is now closed.