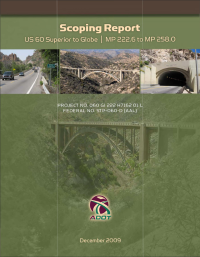 Scoping Report US 60 Superior to Globe: MP 222.6 to MP 258.0
The Federal Highway Administration (FHWA) and Arizona Department of Transportation (ADOT) have initiated a study to develop and evaluate alternative concepts for improvement and/or realignment of US Highway 60 (US 60) from west of the Town of Superior at approximately milepost (MP) 222.6 to east of the City of Globe at approximately MP 258.0 in Pinal and Gila counties, Arizona. This report summarizes the public and agency scoping meetings, comments received during the scoping process, and issues that require further consideration in the development of alternatives and the environmental impact statement (EIS).
Reference Information:
Logan Simpson. 2009. Scoping Report US 60 Superior to Globe: MP 222.6 to MP 258.0. Federal Aid No. STP-060-D(AAL). ADOT Project No. 060 GI 222 H7162 01L. Prepared for Arizona Department of Transportation. Tempe, Arizona: Logan Simpson Design Inc. December.
*This PDF document is not Section 508 accessibility compliant. If you require accessibility assistance, please contact us to Request Assistance.
Public Hearings
The Forest Service will host its remaining two public meetings in Queen Valley on October 8 and in Tempe on October 10.
Video & Materials
A video presentation – the same information introduced at each public meeting – as well as meeting materials (posters and newsletter) are available for public review.
Draft EIS Released
The Draft Environmental Impact Statement (DEIS) for the Resolution Copper Project and Land Exchange is now available for review under the 'EIS Info' tab.
Comment on DEIS
Optional ways to comment on the Draft EIS are located under the 'EIS Info' and the 'Public Involvement' tabs.