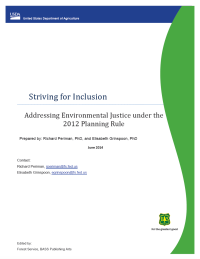 Striving for Inclusion: Addressing Environmental Justice under the 2012 Planning Rule
This document shows, by phase, where the 2012 Rule specifies public participation, outreach, and collaboration with minority and low-income populations, referred to collectively in this document as "environmental justice populations."
Reference Information:
Periman, R., and E. Grinspoon. 2014. Striving for Inclusion: Addressing Environmental Justice under the 2012 Planning Rule. Washington D.C.: U.S. Forest Service. June.
*This PDF document is not Section 508 accessibility compliant. If you require accessibility assistance, please contact us to Request Assistance.
Draft EIS Released
The Draft Environmental Impact Statement (DEIS) for the Resolution Copper Project and Land Exchange is now available for review under the 'EIS Info' tab.
Comment on DEIS
Optional ways to comment on the Draft EIS are located under the 'EIS Info' and the 'Public Involvement' tabs.