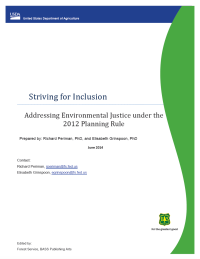 Striving for Inclusion: Addressing Environmental Justice under the 2012 Planning Rule
This document shows, by phase, where the 2012 Rule specifies public participation, outreach, and collaboration with minority and low-income populations, referred to collectively in this document as "environmental justice populations."
Reference Information:
Periman, R., and E. Grinspoon. 2014. Striving for Inclusion: Addressing Environmental Justice under the 2012 Planning Rule. Washington D.C.: U.S. Forest Service. June.
*This PDF document is not Section 508 accessibility compliant. If you require accessibility assistance, please contact us to Request Assistance.
Public Hearing Comments Available
Comments from each of the six public hearings are available for viewing. Note that the public comment period is now closed.