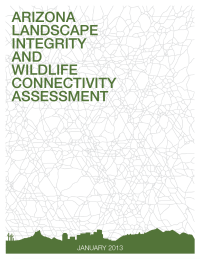 Arizona Landscape Integrity and Wildlife Connectivity Assessment
Common practices for connectivity modeling generally involve assessments of habitat suitability as an indicator for species movement. This contributes to one of the largest assumptions implicit in connectivity modeling – that wildlife choose routes for movement based on the same cues they use to select habitat
Reference Information:
Perkl, R.M. 2013. Arizona Landscape Integrity and Wildlife Connectivity Assessment. Prepared for Arizona Game and Fish Department Statewide Connectivity Team. Tucson: The University of Arizona. January 1.
*This PDF document is not Section 508 accessibility compliant. If you require accessibility assistance, please contact us to Request Assistance.
Public Hearing Comments Available
Comments from each of the six public hearings are available for viewing. Note that the public comment period is now closed.