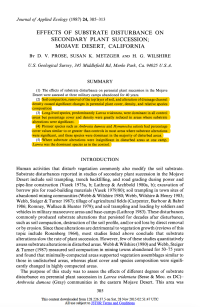 Effects of Substrate Disturbance on Secondary Plan Succession: Mojave Desert, California
The effects of substrate disturbance on perennial plant succession in the Mojave Desert were assessed at three military camps abandoned for 40 years.
Reference Information:
Prose, D.V., S.K. Metzger, and H.G. Wilshire. 1987. Effects of substrate disturbance on secondary plan succession: Mojave Desert, California. Journal of Applied Ecology 24(1):305-313.
*This PDF document is not Section 508 accessibility compliant. If you require accessibility assistance, please contact us to Request Assistance.
Draft EIS Released
The Draft Environmental Impact Statement (DEIS) for the Resolution Copper Project and Land Exchange is now available for review under the 'EIS Info' tab.
Comment on DEIS
Optional ways to comment on the Draft EIS are located under the 'EIS Info' and the 'Public Involvement' tabs.