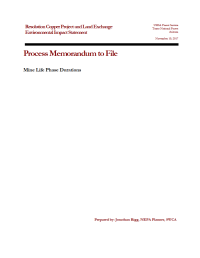 The purpose of this process memorandum is to provide consistent time frames for each of the three mine phases—(1) construction, (2) operations, and (3) closure and reclamation—and the overall mine life as described for the proposed action in the "General Plan of Operations" (GPO).
Reference Information:
Rigg, J. 2017. Mine Life Phase Duration. Process memorandum to file. Phoenix, Arizona: SWCA Environmental Consultants. November 10.
Video & Materials
A video presentation – the same information introduced at each public meeting – as well as meeting materials (posters and newsletter) are available for public review.
Draft EIS Released
The Draft Environmental Impact Statement (DEIS) for the Resolution Copper Project and Land Exchange is now available for review under the 'EIS Info' tab.
Comment on DEIS
Optional ways to comment on the Draft EIS are located under the 'EIS Info' and the 'Public Involvement' tabs.