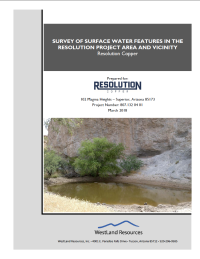 Survey of Surface Water Features in the Resolution Project Area and Vicinity
As part of continuing biological resources support for Resolution's GPO, WestLand conducted surveys for special-status plant species associated with water features that occur in the vicinity of the GPO (Study Area). The objective was to survey for special-status species with potential to occur in the Study Area, and to continue compiling baseline data on wetland and riparian plant species at a combination of lentic (ponds and stock tanks) and lotic (perennial and intermittent drainages, seeps, and springs) habitats (hereafter, "sites" and "reaches", respectively).
*This PDF document is not Section 508 accessibility compliant. If you require accessibility assistance, please contact us to Request Assistance.
Temporary Contact Update
The Tonto Supervisor's Office in Phoenix remains temporarily closed in July 2019 due to a building renovation project. As a result, questions from the media and general public regarding the Resolution Copper Project and Land Exchange should be e-mailed to John Scaggs at: john.scaggs@usda.gov
EIS Timeline - Feb 2019
Public scoping period and scoping meetings
[5 meetings between Mar-Jun 2016; comment period extended from 60 days to 120 days, closed Jul 18, 2016 ]
Compile and review existing data
Prepare project description and identify project alternatives

We Are Here

Validate Baseline Information; analyze environmental effects

Prepare Draft EIS

Federal Register Notice of Availability of Draft EIS
90-day public review and comment period, with public meetings
Respond to public comments and prepare Final EIS
Federal Register Notice of Availability of Final EIS and Draft ROD
45-day Public Objection Period
Resolve objections to Final EIS and draft ROD
Issue Final Record of Decision