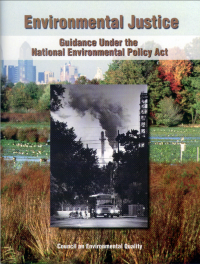 Environmental Justice: Guidance under the National Environmental Policy Act
Executive Order 12898, "Federal Actions to Address Environmental Justice in Minority Populations and Low-Income Populations," provides that "each Federal agency shall make achieving environmental justice part of its mission by identifying and addressing, as appropriate, disproportionately high and adverse human health or environmental effects of its programs, policies, and activities on minority populations and low-income populations."
Reference Information:
Council on Environmental Quality. 1997. Environmental Justice: Guidance under the National Environmental Policy Act. Washington, D.C. December 10.
*This PDF document is not Section 508 accessibility compliant. If you require accessibility assistance, please contact us to Request Assistance.
Public Hearing Comments Available
Comments from each of the six public hearings are available for viewing. Note that the public comment period is now closed.