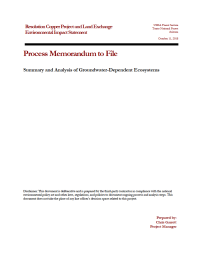 Attachment 7: Well Construction Details and Confirmation of Designation of Groundwater Types
Summary and Analysis of Groundwater-Dependent Ecosystems
Reference Information:
Garrett, C. 2018b. Attachment 7: Well Construction Details and Confirmation of Designation of Groundwater Types. In Summary and Analysis of Groundwater-Dependant Ecosystems. Phoenix, Arizona: SWCA Environmental Consultants. October 11.
Public Hearing Comments Available
Comments from each of the six public hearings are available for viewing. Note that the public comment period is now closed.