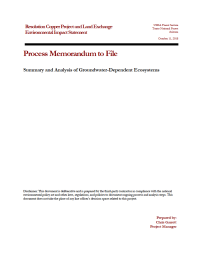 Attachment 7: Well Construction Details and Confirmation of Designation of Groundwater Types
Summary and Analysis of Groundwater-Dependent Ecosystems
Reference Information:
Garrett, C. 2018b. Attachment 7: Well Construction Details and Confirmation of Designation of Groundwater Types. In Summary and Analysis of Groundwater-Dependant Ecosystems. Phoenix, Arizona: SWCA Environmental Consultants. October 11.
Draft EIS Released
The Draft Environmental Impact Statement (DEIS) for the Resolution Copper Project and Land Exchange is now available for review under the 'EIS Info' tab.
Comment on DEIS
Optional ways to comment on the Draft EIS are located under the 'EIS Info' and the 'Public Involvement' tabs.