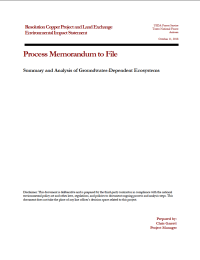 Summary and Analysis of Groundwater-Dependent Ecosystems
Analysis of potential impacts due to groundwater drawdown focuses on two primary receptors: groundwater-dependent ecosystems (GDEs) and water supply wells. The purpose of this process memorandum is to:
provide a potential list of GDEs to be included in the groundwater analysis,
provide a comprehensive summary of available information for each individual GDE,
describe analysis undertaken to validate the likely water sources that support each GDE, and
present the conclusions drawn from that analysis.
The purpose of this memo is solely to identify a list of potential GDEs and their characteristics. Analysis of predicted impacts to GDEs is the focus of the full efforts of the Groundwater Modeling Workgroup and is described separately in the project record.
Reference Information:
Garrett, C. 2018d. Summary and Analysis of Groundwater-Dependent Ecosystems. Process memorandum to file. Phoenix, Arizona: SWCA Environmental Consultants. October 11.
Public Hearing Comments Available
Comments from each of the six public hearings are available for viewing. Note that the public comment period is now closed.