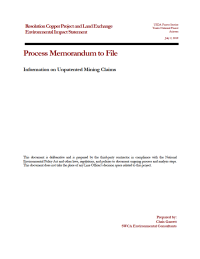 Information on Unpatented Mining Claims
One of the issues identified to be analyzed in the environmental impact statement (EIS) is the presence of unpatented mining claims that might overlap with the proposed project footprint. Information about the unpatented mining claims associated with the proposed action were included in the General Plan of Operation submitted by Resolution Copper (figure 1.3-2 and appendix A). In May 2019, additional unpatented claim information was requested from Resolution Copper for the other alternatives, including:
Alternative 4 – Silver King
Alternative 5 – Peg Leg, including east and west pipeline corridor options
Alternative 6 – Skunk Camp. While the tailings storage facility itself is located on private and Arizona State Trust lands, unpatented claims still could be affected by the north and south pipeline corridor options.
The purpose of this memorandum is to document the receipt of these files for the project record.
Reference Information:
Garrett, C. 2019a. Information on Unpatented Mining Claims. Process memorandum to file. Phoenix, Arizona: SWCA Environmental Consultants. July 2.
Public Hearings
The Forest Service will host its remaining two public meetings in Queen Valley on October 8 and in Tempe on October 10.
Video & Materials
A video presentation – the same information introduced at each public meeting – as well as meeting materials (posters and newsletter) are available for public review.
Draft EIS Released
The Draft Environmental Impact Statement (DEIS) for the Resolution Copper Project and Land Exchange is now available for review under the 'EIS Info' tab.
Comment on DEIS
Optional ways to comment on the Draft EIS are located under the 'EIS Info' and the 'Public Involvement' tabs.