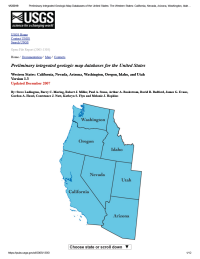 Preliminary Integrated Geologic Map Databases for the United States
The growth in the use of Geographic Information Systems (GIS) has highlighted the need for regional and national digital geologic maps that have been attributed with information about age and lithology.
Reference Information:
Ludington, S., B.C. Moring, R.J. Miller, P.A. Stone, A.A. Bookstrom, D.R. Bedford, J.G. Evans, G.A. Haxel, C.J. Nutt, K.S. Flyn, and M.J. Hopkins. 2007. Preliminary integrated geologic map databases for the United States. Western States: California, Nevada, Arizona, Washington, Oregon, Idaho, and Utah. Version 1.3. USGS Open-File Report (2005-1305). Available at: [Link]. Accessed January 5, 2019.
*This PDF document is not Section 508 accessibility compliant. If you require accessibility assistance, please contact us to Request Assistance.
Draft EIS Released
The Draft Environmental Impact Statement (DEIS) for the Resolution Copper Project and Land Exchange is now available for review under the 'EIS Info' tab.
Comment on DEIS
Optional ways to comment on the Draft EIS are located under the 'EIS Info' and the 'Public Involvement' tabs.