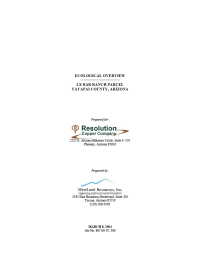 Ecological Overview: LX Bar Ranch Parcel, Yavapai County Arizona
WestLand was retained to prepare an Ecological Overview for approximately 59.9 hectares of land along Tangle Creek within the Tonto National Forest in Yavapai County, Arizona (referred to as LX Bar Ranch). This ecological evaluation was conducted to identify the type and relative condition of the biological resources found on and to evaluate ecological characteristics of the property to identify remarkable resource attributes, and to briefly assess their conservation values in reference to local and regional contexts.
Reference Information:
Westland Resources. 2004d. Ecological Overview: LX Bar Ranch Parcel, Yavapai County Arizona. Job No. 807.06 TC 300. Prepared for Resolution Copper. Tucson, Arizona: WestLand Resources Inc. March 3.
*This PDF document is not Section 508 accessibility compliant. If you require accessibility assistance, please contact us to Request Assistance.
Video & Materials
A video presentation – the same information introduced at each public meeting – as well as meeting materials (posters and newsletter) are available for public review.
Draft EIS Released
The Draft Environmental Impact Statement (DEIS) for the Resolution Copper Project and Land Exchange is now available for review under the 'EIS Info' tab.
Comment on DEIS
Optional ways to comment on the Draft EIS are located under the 'EIS Info' and the 'Public Involvement' tabs.