 Phase I Environmental Site Assessment Apache Leap South End
WestLand Resources, Inc. (WestLand) was contracted by Resolution Copper Mining, LLC (the "User") to perform a Phase I Environmental Site Assessment (ESA) for approximately 110 acres referred to as Apache Leap South End ("the Property"). The Property is comprised of three discrete land areas located within Sections 1, 2, and 12 of Township 2 South, Range 12 East, in Pinal County, Arizona (Figure 1). The Pinal County Assessor Parcel Numbers (APNs) for the Property are 105-15-003 and 105-15-004. An aerial photo showing the boundary of the Property is included as Figure 2. Photographs depicting the site and vicinity are provided in Appendix A. Figure 3 is a map showing the location of certain GPS referenced ground photographs shown in Appendix A.
Reference Information:
WestLand Resources Inc. 2015e in prep. Phase I Environmental Site Assessment Apache Leap South End. In preparation for Resolution Copper Mining.
*This PDF document is not Section 508 accessibility compliant. If you require accessibility assistance, please contact us to Request Assistance.
EIS Status Update - March 2019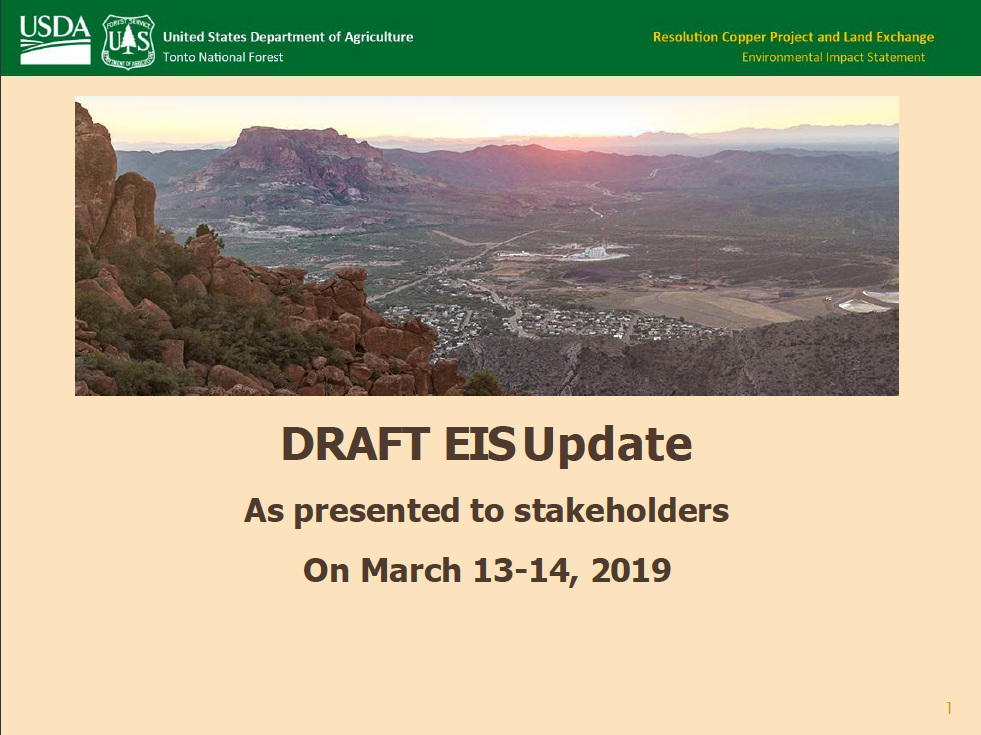 Information on the forthcoming Draft EIS is now available under the 'EIS Info' tab. To view the update, click here.
EIS Timeline - Feb 2019
Public scoping period and scoping meetings
[5 meetings between Mar-Jun 2016; comment period extended from 60 days to 120 days, closed Jul 18, 2016 ]
Compile and review existing data
Prepare project description and identify project alternatives

We Are Here

Validate Baseline Information; analyze environmental effects

Prepare Draft EIS

Federal Register Notice of Availability of Draft EIS
90-day public review and comment period, with public meetings
Respond to public comments and prepare Final EIS
Federal Register Notice of Availability of Final EIS and Draft ROD
45-day Public Objection Period
Resolve objections to Final EIS and draft ROD
Issue Final Record of Decision