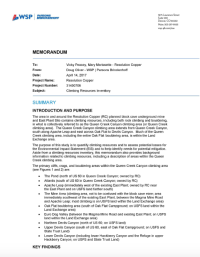 Climbing Resources Inventory
The purpose of this study is to quantify climbing resources and to assess potential losses for the Environmental Impact Statement (EIS) and to help identify needs for potential mitigation. Aside from a climbing resources inventory, this memorandum also provides background information related to climbing resources, including a description of areas within the Queen Creek climbing area.
Reference Information:
Oliver, D. 2017. Climbing Resources Inventory. Project Number: 31400706. Technical memorandum. Denver, Colorado: WSP Parsons Brinckerhoff. April 14.
Video & Materials
A video presentation – the same information introduced at each public meeting – as well as meeting materials (posters and newsletter) are available for public review.
Draft EIS Released
The Draft Environmental Impact Statement (DEIS) for the Resolution Copper Project and Land Exchange is now available for review under the 'EIS Info' tab.
Comment on DEIS
Optional ways to comment on the Draft EIS are located under the 'EIS Info' and the 'Public Involvement' tabs.