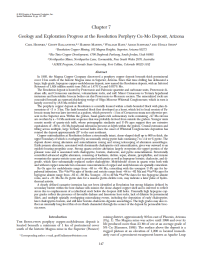 Geology and Exploration Progress at the Resolution Porphyry Cu-Mo Deposit, Arizona
In 1995, the Magma Copper Company discovered a porphyry copper deposit beneath thick postmineral cover 2 km south of the historic Magma mine in Superior, Arizona. Since that time drilling has delineated a large, high-grade, hypogene copper-molybdenum deposit, now named the Resolution deposit, with an inferred resource of 1,624 million metric tons (Mt) at 1.47% Cu and 0.037% Mo.
Reference Information:
Hehnke, C., G. Ballantyne, H. Martin, W. Hart, A. Schwarz, and H. Stein. 2012. Geology and exploration progress at the Resolution porphyry Cu-Mo deposit, Arizona. Society of Economic Geologists, Inc.(Special Publication 16):147-166.
*This PDF document is not Section 508 accessibility compliant. If you require accessibility assistance, please contact us to Request Assistance.
Video & Materials
A video presentation – the same information introduced at each public meeting – as well as meeting materials (posters and newsletter) are available for public review.
Draft EIS Released
The Draft Environmental Impact Statement (DEIS) for the Resolution Copper Project and Land Exchange is now available for review under the 'EIS Info' tab.
Comment on DEIS
Optional ways to comment on the Draft EIS are located under the 'EIS Info' and the 'Public Involvement' tabs.